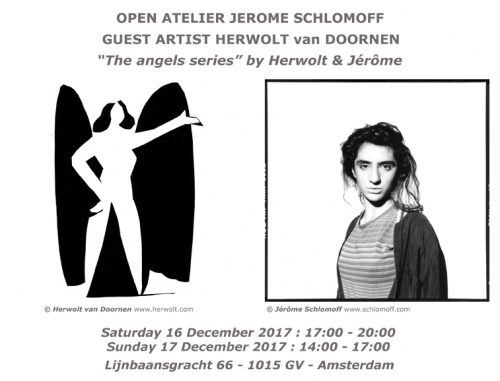 Jérôme Schlomoff has invited Herwolt van Doornen for a special joint exhibition under the title

"The Angels Series"
Herwolt is active as a graphic artist and designer in Amsterdam since 1977. Through the years he has done many studies in black and white. In this case it's about his so called "Angels" he put out since 2008. Starting with sensitive lines in ink, moving to sharp cuttings in black and white paper, a special series of graphics has grown, from which a selection will be on display at Atelier Schlomoff coming mid December weekend.
Jérôme himself has, since 1993, challenged the tradition of portrait photography by aiming at portraying "Angels". The choice of the models, the quality of the light and the composition of the image together play significant roles for the intensity of the photographs produced.
Herwolt, who graduated from the Gerrit Rietveld Academy as a graphic designer has since contributed to, among others:
The New Yorker Magazine, the VPRO TV guide, Het Parool Newspaper, Vrij Nederland Magazine, Furore Magazine and De Poezenkrant.
Location:
Label Impatience - Het Atelier Jérôme Schlomoff - Amsterdam
Lijnbaansgracht 66
Amsterdam Centrum
Opening hours:
Saturday 16 December: 17:00 - 20:00
Sunday 17 December: 14:00 – 17:00
MORE INFORMATION ABOUT HERWOLT

Herwolt van Doornen's website: herwolt.com
Check the portfolio: herwolt.wordpress.com