"ILJA"
World Premiere
This 35 mm pinhole movie is a portrait of the Dutch poet Ilja Leonard Pfeijffer, filmed in Genoa, where he lives. For this film, Ilja translated and read in Italian one of his poem, "Idillys 26", from the collection "Idyllen", Amsterdam (De Arbeiderspers) 2015.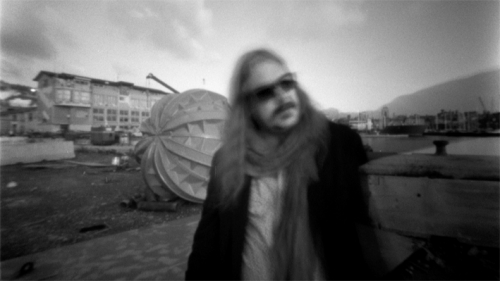 The pinhole camera plunges into a mysterious visit to the city guided by the poet...
Music composed by Smooth One
Distribution EYE
PROGRAM
SUPER B
De liefde voor celluloid

Donderdag 2 maart 2017
Zaal open om 19.30 uur, aanvang voorstelling 20.30 uur
Entree € 5,00
Stichting Ruimtevaart
Hoge Zand 42
2512 EM Den Haag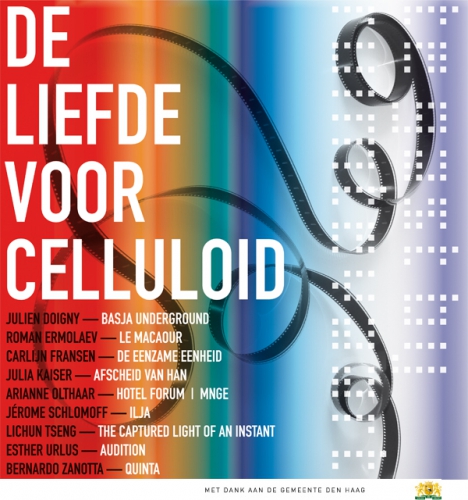 Hotel Forum en mnge, twee films van Arianne Olthaar, vragen zich in nauwe samenhang af wat er nu eerder was, de maquette of het gebouw, en welk van die twee het meest echt is. Julien Doigny greep voor zijn hedendaagse filmkroniek Basja underground naar super8, het materiaal bij uitstek voor de thuisfilmer. Bespiegelingen van Fernando Pessoa inspireerden Lichun Tseng bij haar evocatieve verbeelding in The captured light of an instant, terwijl Ilja Leonard Pfeijffer in Ilja zijn stem geeft aan de door Jérome Schlomoff met zijn pinholecamera geschoten beelden van Genua. Vanzelfsprekend en verrassend, want geworteld in de traditie, maar eigentijds bewerkt, is in duister zwart-wit Le macaour van Roman Ermolaev. Eveneens in zwart-wit, en grof van korrel, is Quintal, waarmee Bernardo Zanotta zich schatplichtig toont aan Glauber Rocha, de leidende figuur achter de Braziliaanse cinema novo in de jaren zestig van de vorige eeuw. Naast het beklemmende van de laatste twee films is er ook het pure plezier in de textuur van het filmmateriaal, zoals in Audition van Esther Urlus; of het vrolijke dadaïsme van Haar borsten popten als puisten. Verantwoordelijk voor dat dadaïsme is Carlijn Fransen, die ook tekent voor De eenzame eenheid, een reeks absurdistische tableaux vivants, met een hofdrol voor de kleur geel en de maker zelf, die qua dead pan Buster Keaton naar de kroon steekt. Na het sprankelende juweel Elegie, stortte Julia Kaiser zich op het melodrama Afscheid van Han, een onwaarschijnlijke symbiose van acteurs van vlees en bloed met poppen, welke laatste weigeren om net echt te worden en dus zichzelf blijven.
Wat hebben voornoemde films nu gemeen? Eigenlijk heel weinig, behalve dat zij, hoewel veelal digitaal afgewerkt, (grotendeels) zijn opgenomen op analoog (8, 16, 35mm) celluloid filmmateriaal. Dat deze liefde voor celluloid niets te doen hoeft te hebben met bedenkelijke nostalgie of met – erger nog – sektarisme mag blijken uit deze aflevering van Te gast bij Ruimtevaart, die werd samengesteld door Super B en Frank Bruinsma met dank aan Anna Abrahams en Nico Bunnik.
Stichting Ruimtevaart
Hoge Zand 42
2512 EM Den Haag
info@stichting-ruimtevaart.nl
www.stichting-ruimtevaart.nl
Stichting Ruimtevaart · Hoge Zand 42 · Den Haag, Zh 2512 EM · Netherlands