"Het Licht, altijd & opnieuw het licht"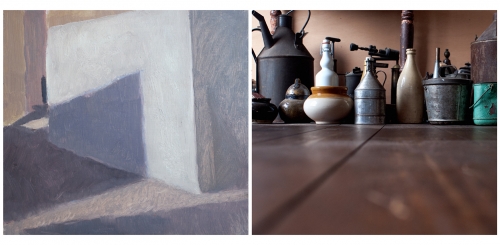 Painting by Paul Versteeg Photograph by Jérôme Schlomoff
For the weekend of Saturday 5th & Sunday 6th of May 2018,
I invite Paul Versteeg for a special joint exhibition in my atelier. You are welcome
Location :
Label Impatience - Het Atelier Jérôme Schlomoff - Amsterdam
Lijnbaansgracht 66, 1015 GV, Amsterdam
Opening hours :
Saturday 5th May : 14:00 - 19:00 / Sunday 6th May : 14:00 - 17:00
Phone 020 23 30 314
"Het Licht, altijd & opnieuw het licht"
"The light, always & still the light". By Paul Versteeg.
Paul Versteeg is a Dutch painter. When 20 years old, he assisted Marc Chagall for the creation of the ceiling paintings in the Opera Garnier in Paris. He is passionated with the observation of light phenomena. The series of paintings presented for the exhibition depicts a little street in Cabrières d'Aigues that is a village in Lubéron, France. During four years, on a regular basis, Paul has been painting this place under different kinds of lights.
He currently gives drawing and painting lessons in his studio established on a boat moored on the Amstel river, Amsterdam. He also teaches colour theory at the Master program on conservation and restoration of cultural heritage of the University of Amsterdam.
"The light, always & still the light". By Jérôme Schlomoff.

For this exhibition, I present a series of photographs taken aboard Paul Verteeg's boat atelier. These images were taken over a period of 4 years and constitute a testimony about the artist.
More info Paul Versteeg : www.paulversteeg.eu