Lazergazer and new york zéro zéro Jérôme Schlomoff, 2006, 21 '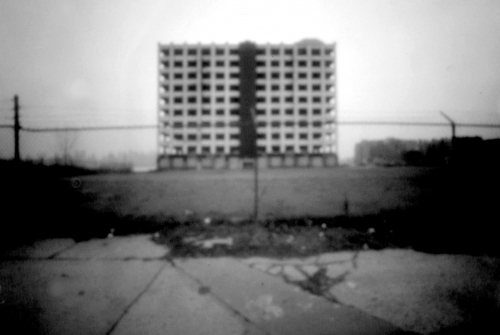 Still image from the pinhole movie "new york zéro zéro"
new york zéro zéro was recorded during a snow storm in New York and depicts the city as a devastated world. Jérôme Schlomoff filmed with his home-built 35mm pinhole camera and portrays New York as a broken and abandoned place. At the same time it could be any city.
The film is built
around a series of intersections of abandoned spaces and a conversation with Jerzy W. Sulek, a homeless architect who has to sleep in his parked van while awaiting a possible building permit.

Lazergazer writes dyslexic lines of code and cuts magnetic tapes while neighbors call the police.
Lazergazer en new york zéro zéro Jérôme Schlomoff, 2006, 21'
new york zéro zéro werd opgenomen tijdens een sneeuwstorm in New York en toont de stad als een verwoeste wereld. De maker filmde met zijn zelfgebouwde 35mm pinhole-camera en portretteert New York als een gebroken en verlaten oord. Tegelijkertijd zou het elke stad kunnen zijn.
De film is opgebouwd rondom een reeks kruisingen van verlaten ruimten en een gesprek met Jerzy W. Sulek, een dakloze architect die in zijn geparkeerde bestelwagen moet slapen terwijl hij wacht op een mogelijke bouwvergunning.
Lazergazer schrijft dyslectische coderegels en knipt magneettapes door terwijl de buren de politie bellen.
Gijsje, Lyckle & Kim en Un chien Andalou (Luis Buñuel, 1928, 20')
Bijna tachtig jaar na de première geldt Un chien Andalou nog steeds als een van de hoogtepunten van het surrealisme. Scenaristen Salvador Dalí en Luis Buñuel schreven het verhaal uitsluitend op basis van droombeelden en associaties. Tot de horrortoptien behoort de scène waarin een scheermes een koeienoog klieft. Het schokeffect dat Buñuel en Dalí nastreefden was ten volle bereikt.
Lyckle, Kim en Gijsje, of Kim, Gijsje en Lyckle, of Gijsje, Lyckle en Kim, maken samen muzikale performances. De performances zijn deels improvisatie, deels niet. Ze zijn verhalend van aard en naast het publiek verrassen ze ook geregeld zichzelf.
Go Me en Cloacinae Serge Onnen & Sverge Fredriksen, 2017, 25'
Elke moderne samenleving is gebouwd op twee door mensenhanden gemaakte onzichtbare systemen: het monetaire en het rioleringssysteem. Gaat er iets mis met een van beiden dan loopt de beschaving gevaar.
Cloacinae is de Romeinse godin van het eerste riool van de moderne beschaving, de Cloaca Maxima, in Rome. In deze animatie over financiën en hygiëne – vormgegeven met Chinese schaduwpoppen en een groot aantal pre-cinematografische technieken – volgen we de reis van een cent die in de riolering is gevallen.
Go Me is een muzikant en DJ uit Amsterdam. Het gerucht gaat dat hij de clubscene stormenderhand verovert als mede-oprichter van het in Amsterdam gevestigde label Seedlink +. In zijn werk onderzoekt hij de relatie tussen geluid en beeldende kunst, terwijl zijn dj-sets zijn voorliefde tonen voor het mixen van conventioneel en onconventioneel, vaak met stotterende beats die de geest opschudden.