"Portraits of uncertain grounds"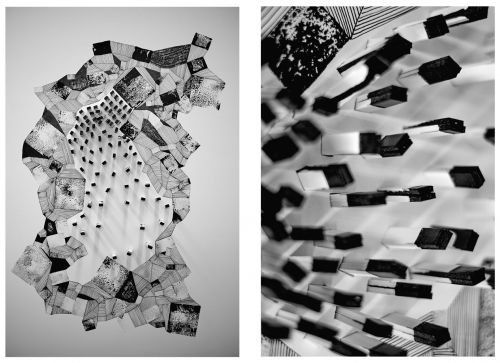 For the weekend of Saturday 9th & Sunday 10th of June 2018
I'm inviting Heike Wahner for a special joint exhibition, in my atelier. You are welcome.

Location:
Label Impatience - Het Atelier Jérôme Schlomoff - Amsterdam
Lijnbaansgracht 66, 1015 GV, Amsterdam
Opening hours:
Saturday 9th June: 14:00 – 19:00 / Sunday 10th June: 14:00 – 17:00
Phone: 020-23 30 314
The physical world is not unpredictable and chaotic. It's the world of sentiments and emotions. So if an artist explores a way to bring order to the chaotic systems of sentiments and uses large geometric objects to express it, you wonder what will happen if she transfers that exploration into a limited space.
The German raised Heike Wahner's uses large monumental structures to portray complex systems in an orderly way. The invitation by Jerome to explore the 'small' unlocked new potential in her work. She is excited to walk into this unknown territory for the first time in Jérôme's atelier.
I will present some detail photographs of Heike Wahner's art works taken in her atelier.
More information Heike Wahner www.heikewahner.nl