You are cordially invited to the exhibition: "CHANEL IS BEIGE"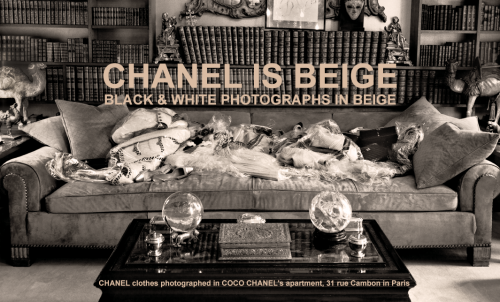 This exhibition presents a series of photographs of haute couture clothing, High jewelry jewels and exclusive perfumes.
These photographs were taken in Coco Chanel's apartment, 31 rue Cambon in Paris, in 2007, for the edition of the book of the exhibition "CHANEL L'ART COMME UNIVERS" at the request of Jean-Louis Froment, curator of this exhibition, which was held at the Pushkin Museum in Moscow,

Beige being one of the symbolic colors for CHANEL, I chose to edit these black and white images with a beige tint.
NOTE: Because of COVID-19, there is no opening, you can come when you want, during the week making sure that I am present by calling me on 06 38 46 73 94. And weekends on appointment, at the same number.
November 14 / December 20
LIJNBAANSGRACHT 66 - 1015 GV AMSTERDAM