"LETTERS, MOVEMENT"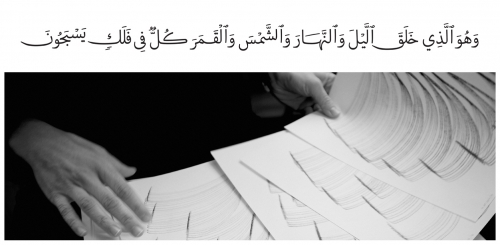 For the weekend of Saturday 19th & Sunday 20th of May 2018
I'm inviting Lara Captan for a special joint exhibition, in my atelier. You are welcome.

Location:
Label Impatience - Het Atelier Jérôme Schlomoff - Amsterdam
Lijnbaansgracht 66, 1015 GV, Amsterdam
Opening hours:
Saturday 19th May: 14:00 – 19:00 / Sunday 20th May: 14:00 – 17:00
Phone: 020-23 30 314

"LETTERS, MOVEMENT" Lara Captan.
In my world, Arabic letters are made of motions within.
They embody traces of a long line of master calligraphers' gestures, thoughts & artistic refinement.
They are inhabited by shifting technologies that reflect the environments in which these changes keep taking place.
In this exhibition, you will visit fragments of my life, dedicated to playing with elemental systems, to making typefaces that tell stories of, movements.
"LETTERS, MOVEMENT" Jérôme Schlomoff.
I saw in the gestures of Lara's writing a whole moving world, so I wanted to make a film of the construction of her Arabic typeface. The result is like a typographic choreography.
MORE INFORMATION ABOUT LARA CAPTAN www.laracaptan.com
Born in Beirut, Lara is an independent type designer & typographer based in Amsterdam. She currently develops Arabic typefaces in an alternative technology called ACE [Advanced Composition Engine] - invented by a Dutch company called DecoType - as well as in the widespread OpenType technology. She regularly speaks at conferences around the world; and is, along with Kristyan