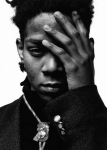 Jean-Michel Basquiat 10 février 1988, Paris.

« Le portrait comme fondement de tous regards »

Jérôme Schlomoff.


J'ai commencé à faire des portraits d'artiste en 1984. Ce travail est pour moi la base fondamentale qui structure mon regard de photographe. Aller à la recherche du regard de l'Autre, renvoie à soi, à son propre regard. Cet échange se joue au plus profond de notre inconscient. Au-delà de la surface visible de l'être, au-delà des informations décodées par le conscient qui organise le paraître. En profondeur de regard, on accède aux informations secrètement enfouies dans la mémoire de notre propre inconscient. Le portrait est un fantastique catalyseur de nos émotions. Porter un regard sur l'autre apprend à regarder le monde qui nous entoure, renseigne sur les événements qui rendent sensibles notre regard. Faire le portrait de l'Autre, c'est faire le portrait de son propre regard à l'affût d'une vérité qui nous échappe à la surface lisse du conscient. C'est s'ancrer au plus profond de l'âme pour interroger la mémoire subconsciente qui agite nos sens. Faire des portraits, c'est tenter l'approche la plus fine d'une vérité inatteignable.

Voir album portrait / see portait album

« The portrait as the foundation of all eyes »

Jérôme Schlomoff

I started doing artist portraits in 1984. For me this work is the base that structures my photographer's eye. The search for the other's gaze echoes one's own. This exchange occurs in our deep sub-conscience. Over and above the visible surface of the being, over and above information decoded by the conscience that organizes appearances. In the depth of the eyes one has access to information secretly buried in our own sub-conscience. The portrait is a fantastic catalyst of our emotions. To throw one's gaze upon another is a lesson in watching the world around us, is an education on the events that sensitize our gaze. To do the portrait of the Other is to do the portrait of one's own gaze looking out for a truth that escapes us on the smooth surface of our conscience. It is to anchor oneself to the deepest recesses of the soul in order to question the sub-conscious memory that agitates our senses. To do portraits is to try the finest approach of an unreachable truth.