PROCHAINE PROJECTION "Amsterdam reconstruction"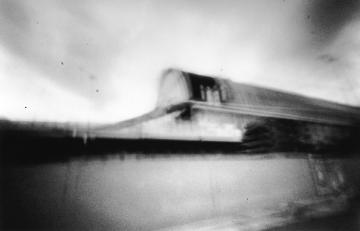 Amsterdam Central Station - image extraite du film "Amsterdam reconstruction"
Les Rencontres Internationales Paris/Berlin/Madrid

BERLIN le 5 juillet 2008 à 16H00
CINEMA : HAUS DER KULTUREN DER WELT
Entrée libre. John-Foster-Dulles-Allee 10, 10557 Berlin. Métro : lignes S5, S7, S9, S75, station: Hauptbahnhof
Ce film sténopé propose une visite de la ville d'Amsterdam à travers les chantiers de reconstruction de quatre institutions culturelles qui sont : la salle de cinéma de la Maison Descartes ; le Rijksmuseum ; le Stedelijk Museum Amsterdam ; le centre d'art W139. Ces lieux sont actuellement en travaux. Le film se construit à travers ces 4 chantiers chargés d'histoire, où la magie de l'architecture mise à nu nous plonge dans un univers étrange et dont la caméra sténopé vient nous révéler la force poétique. Tout au long de cette balade, les éléments poétiques successivement rencontrés sont confrontés à la vision d'un monde industriel, en analogie ou en opposition, avec celle de la nature intacte. Cette vision d'Amsterdam permet de créer un lien dynamique entre les quatre chantiers. Il s'agit d'une histoire de reconstruction, reconstruction de la ville à travers notre propre reconstruction du regard.


This pinhole film offers a trip round the city of Amsterdam, through the building sites of four cultural institutions in the process of being re-vamped: the Maison Descartes cinema; the Rijksmuseum; the Amsterdam Stedelijk Museum; the W139 art centre. The work is currently being carried out in these places. The film is constructed around four building sites full of history, where the magic of architecture laid bare plunges us into a strange world and where the pinhole camera shows us the poetical power.For the length of this journey, the successive poetic elements encountered, are confronted by the spectre of the industrial world, in analogy or in opposition, with that of nature which is intact. This vision of Amsterdam allows for the creation of a dynamic link between the four building sites. Its a story of reconstruction, reconstruction of the town around the reconstruction of our own take on things.


Dieser stenopierte Film versteht sich als Besichtigung der Stadt Amsterdam von der Seite ihrer Baustellen, von vier Kulturinstitutionen, die derzeit renoviert werden: der Kinosaal des Descartes Hauses, das Rijksmuseum, das Stedelijk Musaum Amsterdam und das Kunstzentrum W139. Der Film wird durch diese vier historisch bedeutenden Baustellen konstruiert, wo uns die Magie der bloßgelegten Architektur in eine sonderbare Welt eintauchen lässt und wo uns die stenopierte Kamera die Kraft der Poesie enthüllt. Während dieses Spaziergangs werden die poetischen Elemente, die nacheinander aufgegriffen werden, dem Blick auf die Industriewelt – analog zur intakten Natur oder aber sich dieser widersetzend – gegenübergestellt. Diese besondere Sicht auf Amsterdam ermöglicht, eine dynamische Verbindung zwischen diesen vier Baustellen herzustellen. Es handelt sich um die Geschichte einer Rekonstruktion, der Rekonstruktion einer Stadt durch die gleichzeitige persönliche Rekonstruktion des Blicks.


Este vídeo propone una visita a la ciudad de Amsterdam a través de las obras en construcción de cuatro instituciones culturales: la sala del cine de la Casa Descartes; el Rijskmuseum; el Stedelijk Museum; el centro de Arte w139, todas actualmente en fase de remodelación. Esta película se construye a través de estas cuatro obras cargadas de historia, donde la magia de la arquitectura desnuda nos sumerge en un extraño universo y donde la cámara de estenotipo nos revela su fuerza poética. A lo largo de esta balada, los elementos poéticos sucesivamente reencontrados son confrontados a la visión de un mundo industrial, en analogía o en oposición con aquel de la naturaleza intacta. Esta visión de Amsterdam permite crear un vínculo dinámico entre las cuatro obras. Se trata de una historia de reconstrucción de la ciudad a través de nuestra propia reconstrucción de la mirada.